New continuous 1D diffuser film launched

Microsharp's Lenticular Diffuser Film is now available on continuous reeled tapes with no seam lines.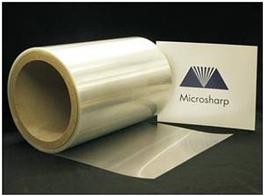 No joins! - Unlike other lenticular films, this one is manufactured in the opposite orientation meaning that it is now possible to produce continuous reels of film with no discountinuation in the structure.

The film is available on continuous reels of up to 140mm width and can be slit to any width required.

The film is available produced on a semi rigid 250µ Polycarbonate film View Data sheet
Homogenise LED strip arrays
Lenticular structures used in combination with LED light sources can deliver high degrees of diffusion (Haze typically around 98%) with excellent transmission rates.
In applications with beam angles below 90 degrees, transmission rates in excess of 90% can be expected.
3 Products are available
279 LPI Lenticular Diffuser on continuous film roll
Evaluation Kits can be ordered via this website
Typical Optical Peformance
Within beam angles of 120 degrees, transmission will typically be over 85%.
 

Increased Lighting Unit Efficiency

With tradition diffusers, transmission can be as low as 50% if a high degree of Haze is required. Using lenticular diffusion could typically increase total unit efficiency by around 40% (see example opposite).